Econoline Casting Melting Foundry Furnace

Melt Scrap Cast Bullion Bars Ingots Gold Silver Aluminum Copper Brass Lead Tin Zinc Pewter


20" x 14" Propane Gas with Hi-Temp Torch and Large Capacity 8" x 12" Melting Chamber for Small to Large Pours
Make Money by Recycling Metals, Refining Metals, Casting Work, Repair Work, Crafts, Jewelry, etc
Simply to use - Manually Adjustable Heat Source - Propane Fuel.
MADE IN THE USA
PROFIT - CASH - INCOME - SAVINGS
A MUST HAVE FOR:
● Money Making !
● Repair Work !
● Work Shops!
● Metal Commodities!
● Survivalist!
● Preppers !

Why???
● Affordable
● Efficient
● Simple To Use
Did you know a penny in your pocket is 2.5 pennies in copper?
Did you know junk metal IS Cash?
This fine casting furnace will pay for itself quickly and for many years to come and allows you a fast start up so you can concentrate on other matters around your core equipment. This is a highly efficient low cost special metal melting casting furnace.
New Deep Hearth Foundry Furnace
with adjustable Propane Torch*
Turn Scrap to Cash!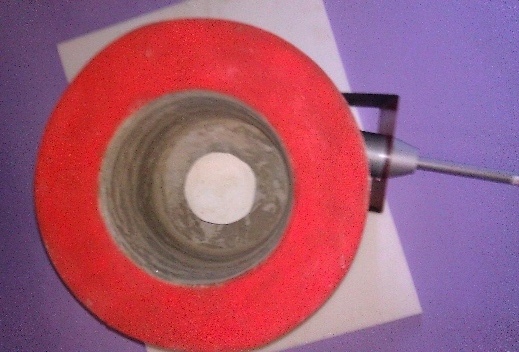 Special Swirl design melting chamber rotates flame around and up for better heating characteristics and efficiency.
Play Video
Here is a similar same design furnace in action.
This custom made to order unit is made of the finest special custom blend high temp mix (2400F maximum temp) available and has been heat cured for several days and ready for use after a short on site 15 min low flame burn in period. Much is engineered into this quality furnace design beyond what is seen on the surface for performance and usefulness over many years of service to come. It is painted with special high temp paints for protection and comes with the base furnace unit, fast hearth heat up lid, crucible pedestal, high temp adjustable propane torch with basic control valve only and operations manual.
* The heating source torch associated with this foundry furnace maybe altered or substituted during or after sale by seller other then the one shown herein as pictured with an alternative heating torch of equal or better suitability as deemed fit for this unit. Optional torch purchase is available for buyer from that available by seller.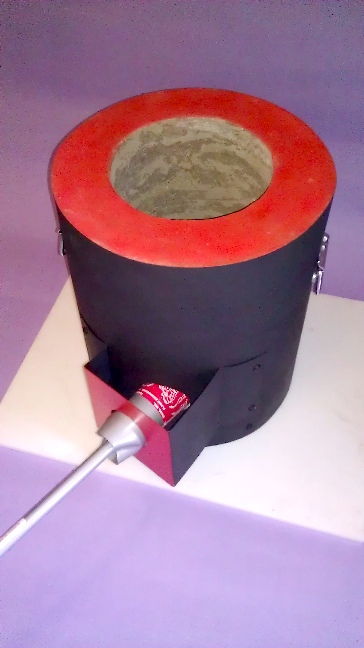 FAIL / SAFE – Feature
Torch rests on guard support with drain allowance room underneath torch.
FAIL / SAFE – Feature Built In.
FAIL:
The most critical part of all melting / casting procedures is the melting pot / crucible for the molten metal in which ALL are susceptible to failure.  Even the finest most expensive crucibles can shatter or fail when least expected and is why you should have good precautionary foundry practices in place. Whether it is a pinhole leak or a catastrophic crucible fracture, liquid molten metal released inside the furnace can ruin it or make clean up a time consuming dangerous project. That's why this unit has been ported for escape of molten metal at the bottom of the unit through the torch hole. Many furnaces do not have this option and which can short electronics, clog flame devices, and or make metal removal impossible.
SAFE:
This drain feature should be matched by using this unit in a dry containment tray, sand box or dirt area to catch any escaping liquid metal should the melting pot or crucible fail. This provides a good Fail / Safe combination of the furnaces design and precaution to contain any possible drainage. After the failed vessel has emptied, the unit can be tilted in the direction of the port hole while hot to drain any remaining metal in the units floors reservoir or remove when cooled. This provides a double layer of protection with controlled containment.
This is a easy to use manually operated foundry melting furnace. Simply adjust and monitor the torch flame for the metal project at hand, then remove metals from furnace in melting pot when ready to pour.

| | | | |
| --- | --- | --- | --- |
| Elements | Symbol | Melting Point Fahrenheit | Melting Point Celsius |
| Pewter | © TheFoundryZone.com | 338-446 | 170-230 |
| Tin | Sn | 450 | 232 |
| Lead | Pb | 621 | 327 |
| Zinc | Zn | 786 | 419 |
| Aluminum | Al | 1218 | 659 |
| Bronze (90 Cu 10 Sn) | Cu+Sn | 1562-832 | 850-1000 |
| Brass (85 Cu 15 Zn) | Cu+Zn | 1652-1724 | 900-940 |
| Silver | Ag | 1762 | 961 |
| Gold | Au | 1946 | 1063 |
| Copper | Cu | 1981 | 1083 |
| Cast Iron | C+Si+Mn+Fe | 2300 | 1260 |
| Manganese | Mn | 2300 | 1260 |
| Monel | Ni+Cu+Si | 2400 | 1301 |
| Steel-High Carbon | Cr+Ni+Mn+C | 2500 | 1353 |
| Inconel | Ni+Cr+Fe | 2540 | 1393 |
| Stainless Steel | Cr+Ni+Mn+C | 2550 | 1363 |
| Silicon | Si | 2588 | 1420 |
| Medium Carbon | Cr+Ni+Mn+C | 2600 | 1427 |
| Nickel | Ni | 2646 | 1452 |
| Low Carbon | Cr+Ni+Mn+C | 2700 | 1464 |
| Iron | Fe | 2786 | 1530 |
| Chromium | Cr | 3034 | 1615 |
| Platinum | Pt | 3215 | 1768 |
| Titanium | Ti | 3263 | 1795 |
| Tungsten | W | 5432 | 3000 |
| Carbon | C | 6512 | 3600 |
TURN SCRAP TO CASH
The difference between scrap prices and High prices are melted clean metals in a usable form.

Make sure you have the appropriate needed safety gear, propane tank, crucible, and working tools and you're on your way to making some serious money with this foundry furnace. The deep well Large Capacity 12" deep x 8" wide Deep Hearth allows for some serious volume melts that can maximize your work to time ratios with larger pours.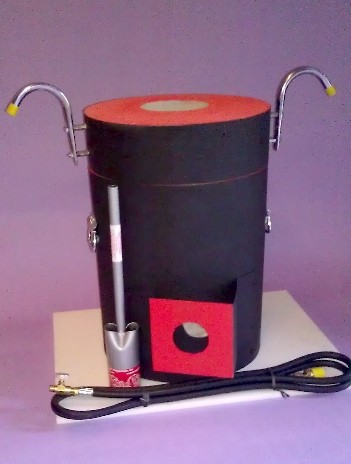 The truth is you don't have to have a lot of money to start or be a big company to make money with metals, foundry work, or casting. Just get the basic equipment, knowledge and start. Things add up quickly when you double or triple your money over time and doing that part time alone can be better than many people do full time!
The core of your foundry work is your Foundry Furnace. Owning one like this only makes sense and dollars too. Your work will be easier and pay back time shorter with less wasted energy, time or effort.
________________
Professional Vs. Homemade
Click the Truth:
ABOUT DIY FURNACES
Manually operated Foundry Furnace
Foundry Casting
Foundry casting (the work of melting and pouring liquid metal into molds) is done successfully millions of times a day by jewelers, dentists, hobbyist, artists, metal scrappers, to large industrial castings concerns by the tonnage weights. Casting metals can be as safe as boiling water on a stove top then pouring it from one container to another when done thoughtfully and properly, only at much higher temperatures. The same simple principles apply; use the appropriate equipment and do not come in contact with the heat by means of separation, control, safe handling, precautionary measures and common sense. This unit provides what you need for small to sizable melts and pours for a wide variety of foundry work.
________________
Order Yours NOW.
To see more Foundry Tools & Melting Pot Choices "Click Here"
Econoline Casting Melting Foundry Furnace
Made Just For You
Complete Custom Made Special Order Unit As Shown Above Out of Box Ready to Use


Price: 5

95.00


All the design and labor work is already done for you. Just Click, Pay, Get and Use.


Shipping to Be Calculated Separately Best Way After Purchase by email selections

Total Chamber Hi-Temp Ceramic Coating Upgrade Floor to Top,
Add Heat Protection, Durability, Extended Service Life

Complete Better Torch & Line Assembly Upgrade, Adjustable Flow Control Valve with Flame Burst Lever, Handle and Line Pressure Gas Regulator.

Custom

Mid-Size 1 Man Multi-Purpose Foundry Tool & Melting Pot, Features All in One Combination Safe Side Lifting and Pouring.
Price: 225.00
Price: 125.00

Price: 295.00

By clicking the "Add to Cart" button, I the Buyer acknowledge and agree to the below terms and conditions of this purchase.
Ships From: SW Chicago Area, IL, 60441
Ship Weight approximately 100 lbs
Furnace Freight charges to be calculated separately after sale and after production as weights vary.
Freight charges on Foundry Tools & Pots to be calculated separately in Shopping Cart and Separate from other purchases.

Normal production handling times are 10 to 15 Business Days with the exceptions of delays from conditions outside of the sellers control as weather, natural disasters, strikes, war, acts of God, material supplies interruptions, etc,. wherein every attempt will be made to complete order as soon as possible with conditions permitting.
Sold on an "as is, where is" basis and there are no warranties, guarantees, returns, exchanges or refunds. "
Product Purchase(s) Agreement: Buyer agrees to abide by these terms of all product sales transactions on this site as described herein by the seller where the sales terms are "as is, where is basis and there are no returns, exchanges, refunds. with no warranty or guarantees expressed or implied, including but not limited to any warranty of merchantability or fitness for an particular purpose or liability for workmanship or material defects" and these terms override and supersede all other terms agreed to any other parties out side of this sale between the Buyer and the Seller including sales/auction sites or payment services used in conjunction with this sale and waives all other agreements to dispute this sale with any other involved party. Upon agreeing to purchase any item through this web site the Buyer further agrees to provide payment for the price purchased at time of sale and warranty payment to be transferred to seller on a permanent basis without delays, hold backs, chargeback's and or refund request at any time after the purchase agreement and force payment provider to keep payment in place and in control of the seller. Buyer personally guarantees payment to be made and assumes all legal costs of collection efforts if required to collect on such payment obligation. The Buyer agrees to indemnify, hold harmless and defend the Seller, Distributor, Wholesaler, Marketer, Maker, Advertiser, The Site, and any of its employees, directors, officers or agents (hereinafter the "Provider") and any of its employees, directors, officers or agents of or associated with Provider, from any and all fault, liabilities, costs, expenses, claims, demands or lawsuits arising out of, related to or connected with: the purchased merchandise; the use of the merchandise purchased. And should any such claim, demand or lawsuit arise or be asserted in any way whatsoever related thereto, whether arising under the laws of the United States or of any State, or under any theory of law or equity, the Buyer will indemnify, hold harmless and defend the Provider, from any and all costs, expenses or liability including, but not limited to, the cost of any settlement or judgment made or rendered against the Provider, whether individually, jointly, or in solido with the Buyer, together with all costs of court and other costs or expenses incurred in connection with any such claim, demand or lawsuit, including attorney's fees. The Buyer furthermore waives for himself/herself and his/her executors, administrators, assignees or heirs, any and all rights and claims for damages, losses, demands and any other actions whatsoever, which he/she may have or which may arise against the Provider, (including, but not limited to any and all injuries, damages or illnesses suffered by the Buyer) which may, in any way whatsoever, arise out of, be related to or be connected with: the purchased merchandise; the use of the merchandise purchased, including any latent defect in the merchandise which The Provider shall not be liable for, and the Buyer, on behalf of himself/herself and his/her executors, administrators, assignees or heirs, hereby expressly releases the Provider from any and all such claims. The Buyer hereby expressly assumes the risk of purchasing the merchandise and use of merchandise. The Buyer furthermore hereby acknowledges and agrees that he/she has read, understands and will at all times assume all Responsibilities involved with the use and operation any merchandise purchased. This instrument binds the Buyer and his / her executors, administrators, assignees or heirs. This agreement is governed by the laws of the state of Illinois, u.s.a. without regard to any provision that would make the laws of another jurisdiction applicable. Any changes to this agreement in whole or in part will be at the sole option of the seller and deemed as a courtesy and not an obligation setting no precedence over this or any other transactions past, present or future. Shipping Terms which apply can be seen at the "terms of use page" at http://www.thefoundryzone.com/terms_of_use.htm By clicking the "Buy Now" button, I the Buyer acknowledge and agree to the above terms and conditions.